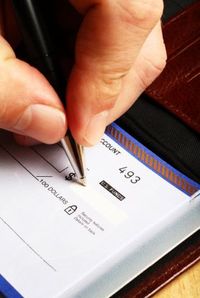 It's fundraiser season again… time to buy your school's gift wrap, your scout's popcorn, and your football team's coupon books. We all wish this would be unnecessary, but it appears to be here to stay. Think about it, though– what is your personal time worth to be handling these sales and deliveries with your child? Would you be better off just writing a personal check to the organization instead and dispensing with the whole ordeal? Spending some time cuddling up with your child eating popcorn rather than walking around the block delivering it?
My children's school has successfully done the "No Hassle Fundraiser" for several years. They say, basically, "Yes, we could make you sell gift wrap or magazines or candy, but you don't want to do that, do you? Why don't you just write us a check and we'll forget the whole thing." And I HAPPILY write that check. My kids have not sold anything as fundraisers for a long time. Everyone is very happy about this approach because they value the time savings, and not selling this stuff to each other means LESS CLUTTER too.
I really encourage people to look at the value of their time and be selective about spending it! Sometimes it absolutely makes sense to trade dollars for more time, outsourcing tasks like oil changes and lawn-mowing, for example. But think about it even for things you think you "have to" do, like the school fundraisers. This "How Much Is Your Time Worth?" calculator from MSN.com allows you to plug in your own information to find the actual value of your leisure time by the hour. If you are a stay-at-home-mom, use this Mom Salary Wizard calculator to find the value of the ten+ jobs you are doing!
Whether or not you come up with an actual number per hour, remember that you can always get more money, but you can NEVER get more time. If you waste it, it's gone. It is the most precious commodity we have. What other obligations could you make disappear with a smart decision? Share your thoughts in the comments! (Thanks so much to Anne for this blog idea!)

Follow me on Twitter for my Daily #ClutterTweetTip: www.twitter.com/clutterdiet