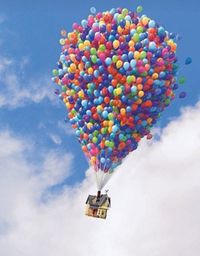 I don't often write about movies, but last time I did it was about Wall-E, and this time I want to talk about another Pixar movie, the latest one called UP. I have seen it twice, which I also don't often do.
You may have seen from the previews that the curmudgeonly main character, Carl, uses thousands of balloons to carry his entire home through the sky. He's an elderly man who has lost his wife, and I won't spoil the story by telling you much more… but what absolutely grabbed me by the collar was a scene in which Carl quite literally JETTISONS all of his stuff from the house. He pushes every stick of furniture out of the doors and windows, every last bit of his old life…things we have seen him meticulously caring for throughout the movie. The helium in the balloons has dissipated throughout his journey and the house can only hover low near the ground. It's only after he realizes the stuff is actually just ballast and throws it out that his house can fly again. Once the past is pushed out, the house speeds upward and rushes to meet the needs of his new friends and his new life. He becomes nimble and mobile and able to live fully in the present.
Is your stuff weighing you down? Maybe it is. It does take bravery to face it. Your memories might be really painful. You might have to admit that you never succeeded at that business, or that marriage, or that you miss a special person so much it physically hurts just to think about it.
But as much bravery as it takes to face the past, it takes just as much or more to face the future too. If you got rid of the stuff that is crammed into your closets, your garage, your spare room, your office, or your bedroom, would you LOSE YOUR EXCUSES of why you're not living the life you want to live right now? Think about it. I am being tough on you guys this week, but I'm keeping it real… Are you afraid that getting rid of the clutter in your life is the first action toward a new life that is scary and uncertain? Even if the past is painful, at least it's familiar. Your new future is the great unknown. You can look at it as a adventure like Carl, or you can let that fear keep you stagnant and never grow beyond your current state.
This is why we say our clients and members that take action and follow our program are some of the bravest people we know.
IS THIS RESONATING? Let me know in the comments. I really loved this movie on so many levels, and I would love to hear your thoughts too. (photo from Pixar's UP movie site)

Follow me on Twitter for my Daily #ClutterTweetTip: www.twitter.com/clutterdiet