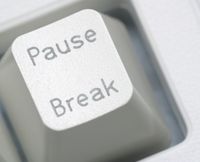 I am always saying that I am organized because I am lazy– I don't want to do things the hard way! This week I got to catch up with my friend Buzz Bruggeman, the tireless evangelist for ActiveWords software. If ActiveWords was not around, I think I would have to invent it. It is basically software that allows you to make your own computer shortcuts, assigning them a word that you can easily remember. You can type your shortcut words from anywhere you happen to be on your computer, whether it's in an e-mail, in a Word document, or anywhere. Here are a few ways that I use ActiveWords:
My book title is really long to type out, so I just type the word "booktitle" and it types this: The Clutter Diet: The Skinny on Organizing Your Home and Taking Control of Your Life.
I type the word "mypics" to open the My Pictures folder.
I type the word "clipart" to open the folder where I store clip art and stock photography.
I have my address, phone number, and other frequently used phrases all set up with their own shortcut words so I never have to type them again.
I can never remember my conference call line number and the PIN– so now I write the word "conferenceline" and it pastes in my information wherever I am typing.
I have written stock replies to frequently asked questions I get on e-mail, so I write "replyemp" to paste in a reply to employment inquiries.
I can never remember my Southwest Airlines Rapid Rewards number, but I just type "swrr" and it pastes the number right there for me.
There is a large piece of HTML code that pastes in my signature graphic at the end of every blog post along with my Twitter information, and I just type "blogsig" and it pastes in the code for me.
I type "cnn" and the CNN website opens up. 
You can set the words to trigger your actions automatically when you type them, or you can set each word to work only when you type it along with a trigger key (like F8 or double spacebar). I use double spacebar as the trigger for my words.
As Buzz says, being there is more fun than going there. It is really cool to be able to instantly go where you want to go and do what you want to do on your computer. You save a lot of steps!
What software do you find indispensable for your productivity? (aside from the obvious common software everyone has like QuickBooks and Microsoft Office) My list is ActiveWords, SnagIt, SplashID, Evernote, and TweetDeck. What are yours? (typing "blogsig "now to sign off!)

Follow me on Twitter for my Daily #ClutterTweetTip: www.twitter.com/clutterdiet