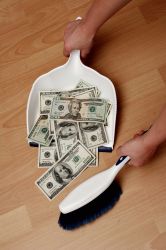 How do you take clutter and turn it into something valuable and useful for you? By swapping it, of course! We previously posted about a couple of sites for swapping gift cards, Plastic Jungle and Card Avenue, and there is one more that I've found lately: SwapAGift. Those are great for turning unused gift cards into cash or consolidating them into credit at a store you really want.
What if you want to swap other items? You can swap designer clothing at SwapStyle and swap just about anything you want at SwapThing and SwapAce. Swap books at PaperBackSwap and TitleTrader, and even swap houses (temporarily) at HomeExchange and U-Exchange.
Caution: Do not just use these services to get more clutter! Make sure you're swapping for something you really want and can use right away.