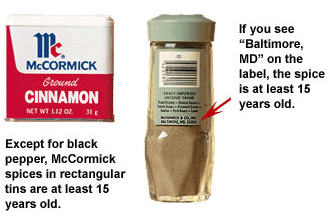 We organize a lot of people's kitchens, so when I saw this magazine ad from McCormick it made me laugh really hard. How many times have we seen these little rectangular tins of spices in our clients' kitchens? They are at least 15 years old! Ewww.
This photo is from the McCormick website, where they have a lot of "secrets" about how to tell how old your spices are, if you are curious. www.mccormick.com/freshflavor
Basically, the freshness range is 1-3 years depending on whether it is ground or whole, etc.