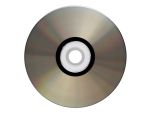 I have a client who receives large amounts of highly confidential information in CD and DVD format. She uploads the information to her own hard drive, but then she cannot just throw the CD in the trashcan.
Have you ever tried breaking a CD? It shatters and splinters and it's kind of dangerous. It's easy to cut yourself or get a shard of plastic in your eye ("You'll put your eye out!" LOL)
Just wanted you to know there are such things as "media shredders." They mince up the CDs into tiny, shiny bits. If this is a common need of yours, it might be worth it to add this piece of equipment to your office. Some better paper shredders also have this capability, so if you are purchasing one, definitely look for this feature. Have you thought about the vulnerability of your digital media?