Now that we've started the busiest shopping season of the year, that also means we need to get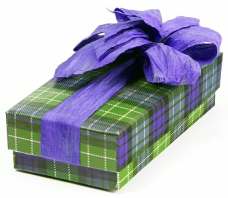 organized to wrap a lot of gifts. The average US household purchases up to 14 holiday gifts for friends, relatives or co-workers (that sounds conservative to me!). Here are the major elements of a "Gift Station" that will make wrapping those gifts easier. You'll need, in addition to these items listed, a flat surface to do your wrapping and taping. You may want to have all of these items in one closet, or you may want to store them all away in convenient containers under a bed or elsewhere.
· Scissors– have a dedicated pair here, don't try to bring them from somewhere else to use each time.
· Tape dispenser and tape refills- it's much better to have a heavy, desktop dispenser so you can use just one hand to get a piece of tape. Some people also like double-sided tape.
· Gift wrap- either in rolls or folded pieces. I really prefer the under-bed containers (although Feng Shui practitioners would disagree with me about storing things under beds—it is really practical!). I have two—one for holiday wraps and one for other occasions.
· Gift bags- assorted gift bags- you can organize them by Holiday, Birthday, All-Occasion, and Baby-Wedding. You can use one larger gift bag for each category to contain all of the smaller bags.
· Tissue paper- keep a larger quantity of just plain white because it goes with everything.
· Ribbons- you can often dispense ribbons on a roll using a dowel rod to hang them up, if you are handy. Often we just keep them upright on their sides inside a bin or drawer so you can see and grab them easily.
· Bows- keep these in a crush-proof container. Give yourself a limit on bows- don't try to save and reuse every pretty bow every year! You'll never use them all!
· Gift tags– the "To" and "From" labels that make it all make sense. It's smart to have some plain, all-occasion tags as well as holiday ones.
· Pens and markers– for labeling gift tags and writing other notes during this process
· Post-It® Notes– you just need them sometimes for temporary labeling. I like the new extra-sticky ones that don't fall off.
· 1-2 extra large gift bags– they make these giant sacks for wrapping oversize gifts like a child's bike or beanbag chair. Good to have around when you need them.
· Extra gifts– sometimes we call this the "gift shelf," but you can keep these together in a bin or another place that makes sense for you. If you find little hostess gifts and child birthday gifts that make a lot of sense to buy in advance, you can store them here and always be ready. And if you are into "re-gifting," this is where those recycled gifts can wait for the right occasion.
· Boxes– just a few! Don't go crazy! The collapsible shirt boxes like department stores use are great, since they store well in smaller spaces. If you can break them down you will be able to store boxes much more efficiently. Just keep a few jewelry boxes and some small, medium, and large boxes for wrapping, maybe 2-3 of each size at the most. Usually gifts come with their own boxes, especially if you ask for one at the store.