November 20, 2008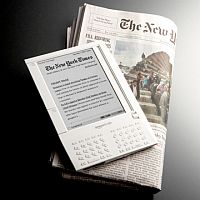 Austin, Texas (PRWEB) November 20, 2008– The Clutter Diet Blog, based on the affordable online home organization coaching program to help people put their homes on a diet and lose their "Clutter-Pounds," has maintained its bestselling position on the Amazon Kindle device for over seven weeks, currently as #3 overall (out of 1118 blogs available) and #1 in the Lifestyle & Culture subcategory (out of 168 blogs available). It is the first blog about home organization available for readers of the Amazon Kindle wireless reading device.
"We are so excited that our blog subscriptions are consistently outselling big names like the Huffington Post and Daily Kos," said Clutter Diet's founder and CEO Lorie Marrero. "We are very proud to have the first home organizing blog available on the Kindle device."
Oprah Winfrey just announced on the Oprah Winfrey Show on October 24, 2008, that the Amazon Kindle device is her "favorite new gadget." She said the Kindle is "life-changing" and is "the wave of the future."
The Clutter Diet Blog has been holding top positions on the Kindle bestseller list for weeks, climbing as high as #2 overall on October 30, 2008, up from #13 overall on September 29, 2008. The blog has consistently held the #1 position in the Lifestyle & Culture and Home & Garden subcategories for the entire time. The blog is available on the Kindle device for a subscription fee of 99 cents per month, and is also available online at clutterdiet.com/blog.
Marrero's new book, The Clutter Diet: The Skinny on Organizing Your Home and Taking Control of Your Life, is due to be released in January.
Clutter Diet® members on the main flagship site at www.clutterdiet.com get access to Marrero and the rest of the team of professional organizing experts in the member message boards, where they can upload photos and get specific organizing advice for their particular rooms and spaces. The affordability of this home organization coaching program (about the cost of a pizza) is important in today's economy, since one-on-one, in-person time with Professional Organizers is out of reach for many budgets.
About The Clutter Diet
Clutter Diet ® is an innovative, affordable, home organizing coaching program that enables people to get organized and stay organized with weekly project plans, video tutorials, a knowledge database, a supportive member community and direct access to a team of Professional Organizers who provide online consulting. The program provides education, motivation, and support without the cost of hiring a Professional Organizer in person. Clutter Diet provides a place for members to "weigh-in" with their personal progress and get questions answered quickly by professionals.
Clutter Diet, Inc. is privately held and headquartered in Austin, Texas. For more information, please visit www.clutterdiet.com.
---
Need help getting organized? Here are 3 ways we can help:
---