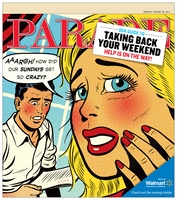 by Kathleen Fifield
Lorie was quoted in an article about six ways that people can how people can Say goodbye to chaosand chill for a change. Read the excerpt below and click on the link to read the whole article.
FOR BIG PROJECTS, THINK AHEADWAY AHEAD.
Lorie Marrero, who oversees the organizational coaching website ClutterDiet.com, says that major jobs (garage sales, cleaning out the basement) should be scheduled weeks in advance, with input from the rest of the family. Lining up everything ahead of timearranging dumpster delivery, for examplemakes weekend projects faster and friction-free, she says. Plus, looking ahead gives you a greater sense of commitment to the project and accountability to each other.
http://www.parade.com/news/2011/08/28-take-back-your-weekend.html?index=1
---
Need help getting organized? Here are 3 ways we can help:
---