Given the current economic situation, it's important to regroup, evaluate, and streamline our lives. Getting organized benefits you right in the pocketbook! So I am writing a 3-part series to cover the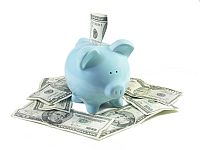 many ways organizing saves you money and puts you back in control:
Part 1. The Stuff You Have
Part 2. The Stuff You Don't Want
Part 3.  Hidden Gains
==========================
The Stuff You Have
During the organizing process, you often find things you had lost or didn't even realize you had. We once found over $5000 in undeposited checks and cash in the home of one of our clients, hidden in books and lost in stacks of unopened mail. You may not find this kind of bounty in your organizing projects, but you will probably find unused gift cards, rebate opportunities, and warranty information that can help you get some money back, and you might even find a $20 bill in an old purse or pocket too. Did you know that in 2006, the value of unused gift cards in the USA was estimated at $8 billion?
Knowing what you have also means you can shop smarter. Just using your wardrobe as an example, if you already know that you have two green turtleneck sweaters, you probably will not buy another one. I cannot tell you how many closets we've organized that have more than ten items of clothing with the tag still on them! The client often could not see the items previously in the closet due to overcrowding. We always talk about how visibility should be one of the primary goals of any organizing project; in other words, can you easily see and find what you have? If so, you're likely to make much better purchasing decisions.
If you can gain that visibility, you will save money by actually using what you have. This is especially true in your pantry and refrigerator. If you organize them (and maintain them) for greater visibility you are less likely to have to throw out stale food later. Planning meals to use up what you have is also a way of economizing and organizing. Try using ingredient searches at AllRecipes.com or RecipeMatcher.com to figure out what to do with that dijon mustard and leftover chicken in your refrigerator.
I invite you to prevent clutter from getting in the door in the first place with our free Clutter Prevention Wallet Reminder Sleeves! Use them to hold your credit and debit cards to remind you of the five important questions to ask before making any purchase.
It may not be in your budget to hire a Professional Organizer right now, but affordable expert help and advice is right at your fingertips at ClutterDiet.com. We provide superb support to accomplish your organizing goals for about the price of a pizza. You can get access to our team online for a whole year for about the price of two hours of our time in person!
And for my Professional Organizer friends reading this, you can still help potential clients who call about your services but find they cannot afford your hourly rates in person. Join our affiliate program to refer clients on a budget to Clutter Diet, and EVERYONE WINS. You get paid for the referral, we receive new members into our online community, and the clients get the help they need.
Stay tuned for Part 2: The Stuff You Don't Want!  How has organizing saved YOU money? Share your story in the comments.

Follow me on Twitter for my Daily #ClutterTweetTip: www.twitter.com/clutterdiet