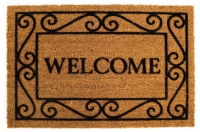 Anyone having guests for Spring Break, for Easter, or for a graduation or wedding?  I just had houseguests myself and it reminded me that guests are a great motivator! Just like having a party, having guests can propel you into action in the most surprising ways, helping you get organized and be proud and enjoy your home.
Here are a few things to think about before guests arrive:
The guest room itself. You may not have a dedicated guest room, but they are going to sleep somewhere. Whatever that room is, consider our helpful and free Guest Room Checklist, found on the left side of our Free Tips page. Everything from fresh towels to extra shampoo is covered on this list, and you can be as simple or as fancy as you like with it. Certainly you want to unclutter the room where they are going to sleep, and this might be quite a chore for you if your guest room is also the "junk room." Time to make some decisions! Also see my Clutter Video Tip on guest rooms on YouTube.
The entrances. Both the front door and the back or garage door are places where you are likely to enter and exit the house with your guests. Is there a doormat to wipe your feet?  Is the doormat clean and positioned on a surface that is swept and uncluttered? If you have a "no shoes" rule, do you have some socks or slippers you could offer them to put on instead? Are there cobwebs and dust on your exterior doors? Is your porch light burned out? Is your garage passable? Take a look at these entrances with a fresh set of eyes.
The yard. If first impressions are important to you, take a look at the yard before they arrive. Weed, mulch, mow, rake, or do whatever is important to you to make your house feel more approachable and pleasant. Planting some flowers is always a nice way to make people feel welcome. I just put some new flowers in the pots on our back deck and it feels lovely! And it was having the guests coming that made me get it done.
The bathrooms. Many of the bathroom items are covered on our Guest Room Checklist, but it's worth mentioning here that cleanliness is crucial. Think about how you feel about hotel bathrooms and make sure you don't gross anybody out. By the way, many people no longer travel with hair dryers since most hotels have them, so you might consider getting a spare for your guests. Nightlights can also be extremely helpful to guests if they need to get up during the night (I travel with one and use it in my hotel rooms!).
The kitchen. Stock up on some easy snacks and drinks, and make sure your guests know how to get themselves a glass of water and a snack when they don't want to bother you. Leave a small stove-hood or refrigerator door light on for them in case they need to get up in the middle of the night. 
The CLUTTER. Take advantage of the motivation and momentum of your guests' imminent arrival to get organized! You'll be surprised how much more quickly you make decisions when you have a deadline! 
One final note… NO STASHING unless it's absolutely necessary with no other options. Stashing away clutter can be a disaster, especially when it includes things like unopened mail! There is a right and wrong way to stash, if you must… see my video, "Stashing the Evidence," on YouTube. "Neat" does NOT equal "organized!"
Do you have guests coming? Get some help to get all of this done before they ring your doorbell! Our expert team of Certified Professional Organizers®  are available to help you online 7 days a week to provide advice and accountability, at about the price of a pizza. Let us help you! Read more about our online consulting here. Share your guest room issues and fun guest stories in the comments…

Follow me on Twitter for my Daily #ClutterTweetTip, "Like" us on Facebook, and see our weekly #ClutterVideoTip on YouTube at http://www.youtube.com/clutterdiet
If you are not reading this on clutterdiet.com/blog, in your own RSS reader, or via an Amazon Kindle subscription, this content most likely is being used without the author's permission and is violating copyright law. Please do not support these scraper sites!