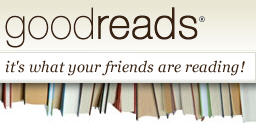 Book lovers take heed! Since at Christmas time we often talk about a few of our "favorite things," I wanted to share this website with you where I have spent way too much time playing. (logo screenshot from their site)
You can organize your book collection at www.goodreads.com, where you can also give reviews to your books, share your book "shelves" with friends, and capture books you want to read next. One question we get often is where to capture that type of information… this is a great place for those future reads to have a home so you won't forget what someone recommended to you.
You can create your own "shelves," which are just categories of books, and your books can reside in more than one category. I cannot tell you that this is a truly productive use of your time, because you still have to organize your books physically. But if you are a book lover, this is a very enjoyable way to spend a few hours on a rainy or snowy afternoon, and you can get some great ideas for books to read from looking at others' shelves and reviews. Hopefully you have some time off this holiday season and you can spend some time on GoodReads browsing and commenting! Enjoy!