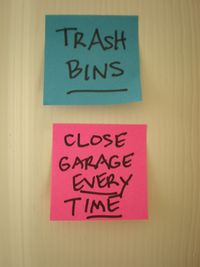 (Third in a series expanding on my rebellious notions on time management–See previous post "Rebel Without a Clock." Click the bulleted list below for other posts in this series.) 
My opinion of the five essential components of time management:
Today I want to talk about Cue-ing yourself… how do you remind yourself when a task or appointment needs to be done?
I get a lot of practice at reminding, because I have two teenage sons. :)  I have found it very effective to leave them notes that do the nagging for me. It's amazing how well that works, with a minimum of hostility. Usually I leave sticky notes on the door where they come in and out. They are brightly colored and I change them often so they don't become part of the normal landscape. Shown here at the top of this post is a photo of a typical day's door notes.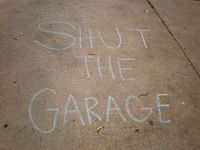 Despite the notes, the garage door still kept getting left open. So I asked myself, how can I CORRECT my system to make it work better? The problem was that once they got on their bikes and rode out of the garage, the note was not there, not visible. They have to stop and punch in our keypad code to shut the door, and by that time they have already forgotten. So, here was my solution, done up large in sidewalk chalk on the driveway (you can click image to enlarge if needed).
IT WORKED. Why? Here are the factors that make your CUES work, whether they are Outlook/Blackberry alarms, sticky notes, or wake-up calls:
It took the burden off memory. Don't worry your pretty little head about miniscule details, let your time management system do it for you! Reduces stress and avoids mistakes.
It was placed in an unavoidable path. Think of your Future Self and figure out how to trick him/her into seeing the message no matter what. (read more about my Future Self idea here in a previous post) Example: putting your keys with your lunch in the refrigerator so you can't forget your lunch on the way to work.
It was absolutely noticeable. Your cues must have the element of novelty that allows your brain to notice things. Novelties might include color, interruption, sound, or placement. Otherwise cues become like wallpaper and your eyes just gloss over them. (Got sticky notes on your monitor that have been there for a while?)
It was there exactly at the right time. You can't have a reminder that then puts the burden back on memory because it's too soon before it was needed.
BONUS FACTORS: Being humorous and surprising. If you can creatively put humor and surprise into the mix, it anchors the thoughts in your mind and makes them into stronger memories.
What are you using to remind you of your tasks and appointments? Are they just part of the landscape that you now ignore? What could you do to change it up a bit, to Cue yourself more effectively?

Follow me on Twitter for my Daily #ClutterTweetTip: www.twitter.com/clutterdiet