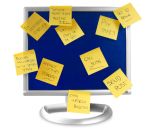 Yes, it's National Clean Out Your Computer Day on Tuesday of this week! It's a great day to take a few minutes to streamline your virtual workspace. Here are my top five pointers:
I don't believe in spending too much time deleting old files. Memory space is cheap, certainly cheaper than the value of your time! If there are obvious things, then yes, delete them… but don't open up everything and examine it to decide whether to keep it, etc. If it's old and in your way, archive it to a DVD or move it to a folder where it won't be distracting.
I do believe in keeping a clear desktop. Delete unnecessary shortcut icons and add shortcuts that are really useful to you. I love using the "Quick Launch" toolbar in XP, which puts frequently used icons where you can always see them. Click here or click this thumbnail screenshot for instructions on how to use the Quick Launch toolbar. If you use Quick Launch for a shortcut, you can delete that shortcut off the desktop, keeping it much less cluttered.
Clean out your "My Documents" folder, creating new subfolders as needed to match up with your current projects and business structure.
Make sure you have a great backup system in place. I like www.carbonite.com and friends of mine also like www.mozy.com. Read about how Carbonite saved my hiney last fall.
Take a moment to check on running important utilities like spyware scans, virus scans, and defragmenting. This can really save you some heartache and even make your PC run better.
Go forth and make your computer lighter and your day better! Enjoy!