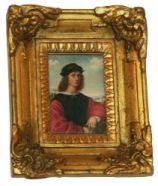 One of my favorite quotes is:
"Make each day your masterpiece." (John Wooden)
I have this quote printed out on a label and stuck to the top edge of my laptop screen. It keeps me on track throughout the day and inspires me. When I am getting distracted, I ask myself if this activity or this thinking is part of creating my masterpiece. When the answer is no, I adjust and do better.
What does a masterpiece day look like for you? Mine includes good sleep, getting up relatively early, fresh food, exercise, time with family and friends, focusing on my top priorities, writing, journaling, Tweeting, reading, and laughing. (Also Dagoba Xocolatl dark chocolate with chilies and cocoa nibs.) It does NOT include wasted time or sweating the small stuff.
But more than that– what does a masterpiece LIFE look like for you? Does your masterpiece include clutter, chaos, procrastination, indecision, and distraction? Are you waiting on other people to do things for you, to rescue you, to give you the answers? Are you grabbing the brush, putting your own hands into the clay, putting down the bold strokes that are required?
The most powerful thing about this quote is the idea that we CREATE our days and we CREATE our lives. We have choice in every moment–even if we don't always have full control of our circumstances, we choose how we react to them. So if clutter and chaos are part of your life and are standing in the way of creating your masterpiece, know that you have the power to paint with a different brush, carve off an unnecessary chunk of the clay, or even ball up the paper and start over.
What is your definition of a masterpiece day? What is holding you back? Share your thoughts in the comments.

Follow me on Twitter for my Daily #ClutterTweetTip: www.twitter.com/clutterdiet