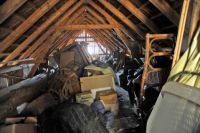 Last weekend I met someone who told me that she has enough stuff in her attic to furnish a 3-bedroom house, no exaggeration. She has been storing it for decades "for her kids." The items she saved were things that the children loved and enjoyed when they were growing up, including toys, sports equipment, and furniture.
Her kids are now in their 30s and 40s and have their own homes and families. I have seen this situation before, and I know with almost 100% certainty that the kids don't want 80% or more of this stuff. They may possibly want a few keepsake items, and a special bed or dresser may be a welcomed heirloom. But their busy lives make it difficult to even come and survey the stash, and if they live elsewhere, the difficulty is magnified.
This person is convinced that her adult children should be delighted to have these treasures and that they should be grateful that she kept them all these years on their behalf. Here are a few gentle reminders that I provided:
These items in the attic are just "stuff," and what gives you an emotional reaction is the memories associated with the stuff. Someone else just sees an old boot or a stained cookbook. Focus on the memories above the objects.
Accept that your adult children may be completely uninterested, and further accept that they might not want to keep anything you feel is worthy, or anything at all.
Remember that stuff can be a burden. Your intentions may be truly good, but you might be actually having a negative effect. You might even be imposing a financial hardship given shipping and storage that could be required if they live elsewhere or if they are moving soon.
Respect your children's wishes. Don't jeopardize your current relationships with them by pressuring them with things from the past. People outrank stuff!
Find a way to preserve the memory without keeping the whole object. Take a photo of the item, maybe even including within the shot the people involved with that memory. Clip a swatch from significant fabrics to frame, or arrange small objects in a shadowbox.
Use the earnings from selling the objects as a donation to a meaningful charity, or contribute to a college fund for your grandchildren. You could also use the money to pay for converting memorabilia from old formats to new (super 8 to DVD, slides to digital photos, etc.). Memorabilia conversion often emerges as a project when you dismantle large storage areas.
Make meaningful gifts by framing some of the items to make it easy for your children to enjoy and use them in their homes. What is better: shoving a bag full of wadded-up handmade doilies at them, or handing them a holiday gift of one of the best pressed doilies in a frame?
Ask family members other than your children if they might like some family keepsakes. You can e-mail photos to them to get a faster answer.
Donate as much as you can, and don't get fixated on finding the "PERFECT" home for each item. Giving to a general nonprofit organization like Goodwill means that several people in your own community can benefit from your donated objects– the buyers of the items and subsequently the people that receive job training and placement from the proceeds.
Whatever you do, please take care of distributing the stored stuff before your children have to do it for you. In that situation your memories are not available to provide context, and your children will be burdened with sorting it and disposing it without that information.
Handling family heirlooms and keepsakes can be an emotional mine field. I hope these guidelines will help you and your family. What have you experienced that helped in these situations? Share in the comments!

Follow me on Twitter for my Daily #ClutterTweetTip: www.twitter.com/clutterdiet