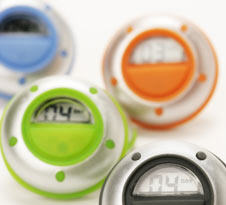 What a nifty little gadget! I bet there are probably thousands of uses for this. These are "Days Ago" digital day timers, which are available in both suction cup and magnetized versions, and they answer the question of "How many days ago did I (fill in the blank)?" You can use it for seeing how old your food is, when was the last time you watered your plants, or when you opened that bottle of baby formula.
Their website also has a very handy food spoilage guide that is good for reference.
I think these are great for non-urgent matters, but if you need to be reminded of something very important, you should definitely use your time management system as a trigger to make sure.