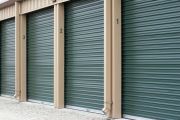 Did you know that one in eleven US households rents storage space, and that 7 square feet of commercial storage space now exists for every American? (click here for source) I tend to get on a soapbox about this issue, as so often the rental cost of these units exceeds the replacement cost of the items inside them. I heard a funny story a couple of weeks ago about how one family got rid of their stored items.
A good ol' Texas boy, let's call him Billy Joe, was telling me that when someone in his family passed away leaving two or three storage units full of stuff nobody wanted, they were scratching their heads as to what to do with some of the larger items. Nobody wanted to pay to haul them away, and they just decided to put things out in the storage unit lot with signs on them saying things like, "Jim–here is the table you wanted." And mysteriously, these items were all taken away… "Jim" had come to get them!
The theory on this method is that if they had just left them out and said, "Free- take it away," the perceived value of the item would be nothing and nobody would take it. Since they made it seem with the signs like someone desired the item (the fictitious "Jim"), it magically became desirable. I am sure the storage unit people probably prefer that you not do it this way, but I thought the story was just too funny not to share.
Do you have a storage unit that is long overdue for re-evaluating? Tell us in the comments!