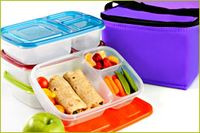 A green lunch? Eww! I do not like green lunches, I do not like them, Sam-I-Am!
Well, I mean green as in Earth Day! We all know that bringing a lunch with you to work or sending kids to school with a lunch is an outstanding way to save money and eat more healthfully. But are you still using the old brown bag and disposable plastic bags?
In honor of Earth Day today, and in the spirit of all things Efficient, I want to share with you my friend Kelly Lester's own invention, EasyLunchboxes. They are divided containers that make it easy to pack your lunch in a reusable, earth-friendly way, and they fit in their own insulated bag with room for a drink and an ice pack on the top.
I like them so much, I am giving one away! Comment here on this post to enter, and we'll choose the winner via a random number drawing. Winner will get one container and one lunch bag (you get to choose the color), value of $21.90 USD. We'll take entries on this through Sunday, May 1st, 2011, and we'll notify you based on the (private) email address you provide when you comment here. We'll also announce the winner in our weekly newsletter. (This giveaway is offered to US & Canadian residents only. Please do not enter this giveaway if you have won or received free product from EasyLunchboxes within the past 3 months.) 
Here are some more Earth Day fun things to do!
"Like" the EasyLunchboxes Facebook page where Kelly has some fun lunch tips and people share photos of their awesome lunch-packing skills. :)  Also watch her INCREDIBLE YouTube webisode series with Barry Williams ("Greg Brady") and other stars! (She puts my videos to shame.)
DONATE to Goodwill®! Take that stagnant stuff out of your house, keep it out of the landfill, and put it to work–helping Goodwill put people to work! See the landfill ticker at the bottom of the page at http://donate.goodwill.org — so far, 2.5 BILLION pounds of usable goods have been diverted from landfills since 2010!
Find out the impact of your donations with Goodwill's Donation Impact Calculator. Put in your donated items, such as 2 shirts, 3 DVDs, etc. and you can find out how it helps. For example, one working computer provides 8.1 hours of on-the-job training for someone in your community!
Watch our new Donate Movement partner Planet Green and their new show, Dresscue Me, featuring vintage fashion and finds from Goodwill!
Enjoy Earth Day, and share your favorite green tips as you enter our contest below!

Follow me on Twitter for my Daily #ClutterTweetTip, "Like" us on Facebook, and see our weekly #ClutterVideoTip on YouTube at http://www.youtube.com/clutterdiet
If you are not reading this on clutterdiet.com/blog, in your own RSS reader, or via an Amazon Kindle subscription, this content most likely is being used without the author's permission and is violating copyright law. Please do not support these scraper sites!