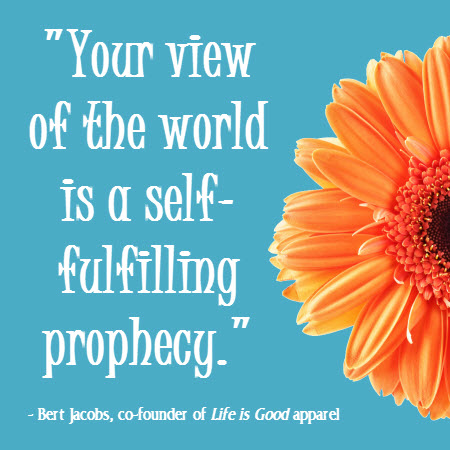 Recently I met Bert Jacobs, one of the co-founders of Life is Good apparel (the t-shirts with Jake, the little happy stick figure guy, on them). When he spoke here in Austin, he talked about optimism being the message of their company. "Your view of the world is a self-fulfilling prophecy," he said, adding to my long list of quotable notes I took from that event.
It reminded me of one of my favorite quotes of all time, from Henry Ford, who said, "Whether you think you can, or you think you can't–you're right."
Your mindset is the single biggest factor in your success! If you think it's impossible to get organized, or continually say things to yourself like, "I am just not an organized person," you will keep yourself on the same level you are today. Making changes starts with believing it's possible to change.
Bert Jacobs also said they are very aware that they named the company "Life is Good," not "Life is Great." Things will not always go well. There will be setbacks, and sometimes those setbacks are extremely difficult to overcome. Challenges are what make us grow and learn, and as we overcome them, we can share our lessons to inspire others.
We have a member in our program who is inspiring lots of us with her contagious optimism. Her username is "sparkle," which says a lot. She signs off her posts in our member area with, "Lovin' Life!" And guess what? She's making lots of progress on her projects. I am not surprised at all.
What are you currently believing about yourself and your circumstances? IS IT TRUE? Is change possible with the mindset you have? What could you say differently to yourself? Share your thoughts in the comments!

Follow me on Twitter for my Daily #ClutterTweetTip, "Like" us on Facebook, PIN with me on Pinterest, see me on Instagram at loriemarrero, and watch our weekly #ClutterVideoTip on YouTube at http://www.youtube.com/clutterdiet