I just finished your 7-Day Quickstart program and I'm SO INSPIRED!! I have LONG had a huge problem with clutter and it has been exhausting. I decided recently that I HAD to get it under control. Here's my story:
We moved into our current house over 4 years ago, but I have never finished unpacking. I loved the house we left, but we couldn't afford it anymore. We found a house in the same area for a GREAT price. It needed some work, but we knew we could make improvements once we sold the other house. Long story short, housing market was terrible and we didn't get enough to make ANY improvements to the "new" house.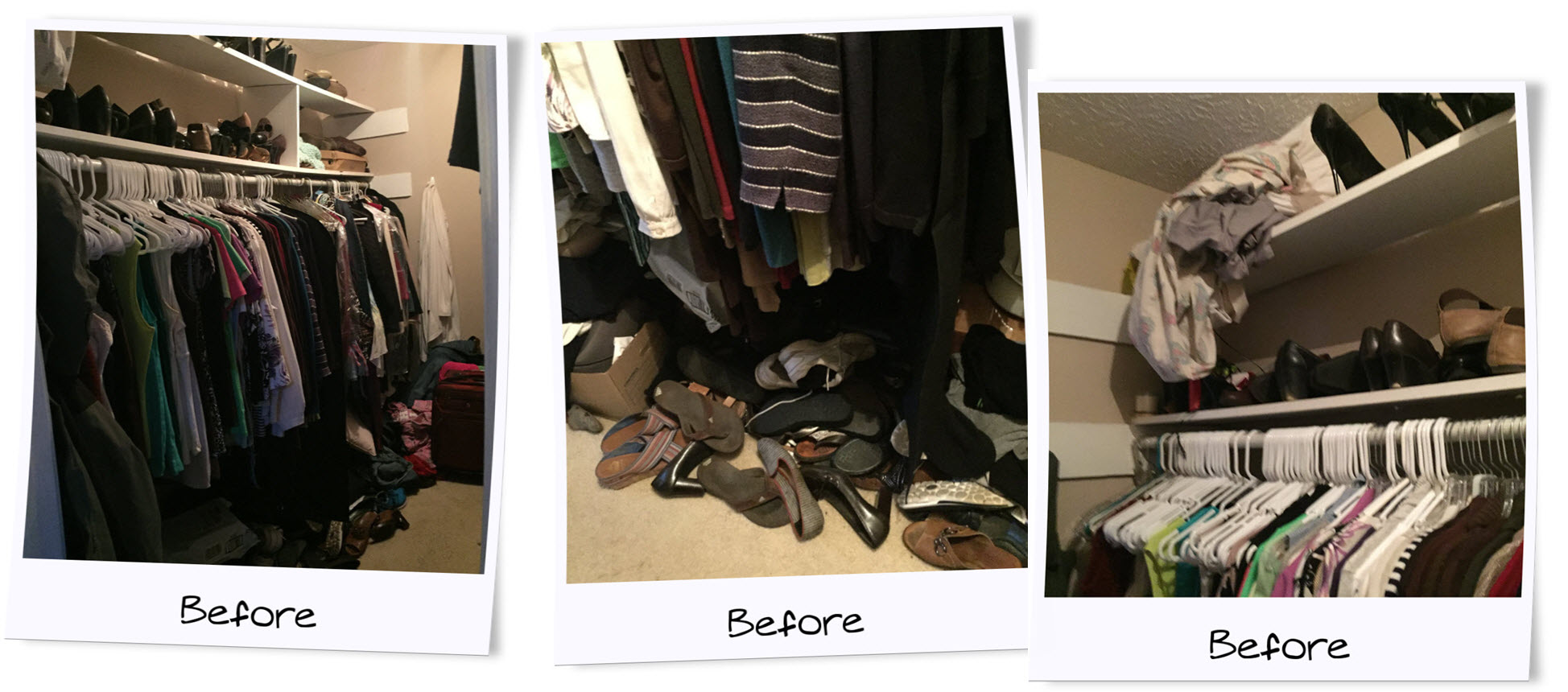 So, it's like the house became "dead" to me. I was frustrated and uninspired. I have always had a clutter problem, as I said, but it became serious. There are boxes STILL unpacked from the move. My entire house needs to be de-cluttered; but, as you might imagine, I can't even THINK about such a huge undertaking…so, I decided I HAD to start somewhere, and somewhere small, and not only clean it up, but, as you said, put a system in place that would WORK to keep me from cluttering again. And so, the master bedroom closet became my focus.
I was brutal…several bags of clothes, shoes, and other items removed (Goodwill had a GOOD day!), some shoe shelves and sweater boxes from The Container Store "installed," and some 3M hooks, it is finished. Now, I just want to go sit in my closet!! It's perfect! It's easy to see what I have, to get to it, and to put it away. I feel so great!

I'm now working on other projects…my nightstand and the area around it, my knitting/crocheting yarn and projects, and my desk at home, which is getting a completely new filing system. I'm working up to the basement…can't go there yet. 😉
I'm happy!! Thanks for the inspiration.
GREAT JOB!!! Your service is awesome…coming from someone who has long struggled with clutter and tried many different approaches. One thing I have learned though is that you're never going to change anything until you're sick and tired of being sick and tired!!
Keep up the great work!