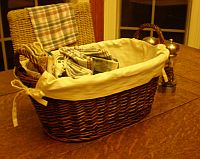 At the Clutter Diet, we teach that there are three kinds of organizing: Planning, Projects, and Systems & Routines. Most people think about us for Projects, like doing a closet or a garage. But Systems & Routines are really the foundation of home organizing– things like laundry, cleaning, meals, dishes, and maintenance. They keep things moving and flowing properly, preventing bottlenecks and stagnation of stuff.
As we continue to become more environmentally responsible as a nation, our household systems and routines start to reflect that shift. I live in Austin, TX, which is a very progressive city in many ways. For example, Austin has an ambitious and impressive Zero Waste Plan. While I live in a place that is very environmentally conscious, I am quite certain there are areas of improvement for me. I think of myself as being "as green as the next guy"–kind of normal. But I really see that my Systems & Routines have definitely changed over the years to reflect a more green mindset.
Here are some systems that I use in my home and have heard our clients and members using too.
Cloth napkins. We keep a basket of cloth napkins on the table, and after using them, we hang them over the backs of our chairs if they are still able to be used again and wash them when required. (see photo above) I recommend getting cotton, multi-colored napkins that won't show stains, and don't worry about ironing them.
Composting. We keep an attractive, open, stoneware bowl near the sink where we usually chop vegetables. We fill up the bowl throughout the day with banana peels and apple cores and the like, and once a day we take the bowl out to the backyard to our compost bin. It's an easy thing to do and we are always surprised at how much we would have thrown into the landfill.
Recycling. We have a recycling bin in the pantry where we throw our glass, paper, plastic, and metal items. If you have space, it's great to have a pull-out bin in your cabinet area– we are seeing a lot of that in homes now. And if you keep your recycling in the garage, you can set up a staging area where you temporarily place the items before taking them out later.
Another important factor in "green" organizing is disposal. Use www.earth911.com to find appropriate disposal or recycling resources in your area. Donating items to charity is also excellent recycling, but please don't donate torn up and dirty items to your charity either. Be considerate–the items typically need to be usable and clean.
And of course, we have changed our light bulbs to compact fluorescents, which is why photos taken in my house are always tinted yellowish like the one here. Any photographers got tips on that for me? I love the environmental impact but don't like the yellow pictures. What are your favorite environmental household systems? Share in the comments!

Follow me on Twitter for my Daily #ClutterTweetTip: www.twitter.com/clutterdiet