Last fall we were pleased to partner with Good Housekeeping magazine to do a big clutter makeover contest! The Container Store pitched in a $1000 shopping spree, and we offered an annual membership to our program, a copy of our book, and two days with me in the winner's home.
The grand prize winner is Dana Hamilton, who lives in the Dallas/Fort Worth area. She had a garage and an office that needed our attention, as well as advice on the rest of the house. Her contest essay was written as a poem, by the way! So clever. You can read the poem and hear about the makeover experience from her perspective on her blog.
Part One… The Garage.
I was just there last week, and YES, we did a garage in Texas in July! We started early in the mornings and worked until it got unbearable, then switched to the office. Here's the garage before…and after! (click these images for a larger version) Good thing you can't see us very close up since we are definitely NOT fresh as a daisy.  🙂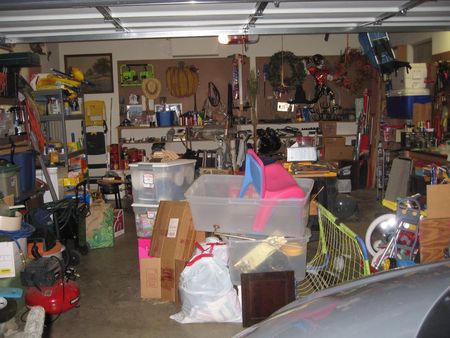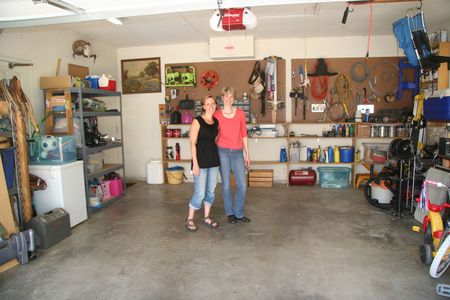 I want to give a big shout-out and thank-you to my friends at SafeRacks.com, and especially the local dealer, Rich Adams at www.saferacksdfw.com, for providing us with two garage racks as shown here, that really helped us get the job done (click photo for a larger version):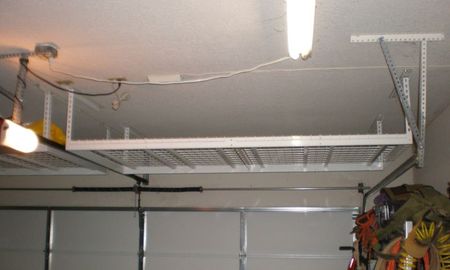 Using these is like getting another attic, but with more visibility and accessibility. They can fit right in that unused space between the ceiling and the top of your garage door! SafeRacks is offering, by the way, 10% off all web and toll-free number orders when you use the coupon code "clutterdiet." (discount is on products but standard shipping still applies). Let us know if you take them up on that!

I also want to give a big thank-you to the friendly people at the Southlake, TX Container Store location. They were extremely helpful and knowledgeable, and it sure was fun to have someone keep bringing you fresh shopping carts to fill up! We went on a big spree and stayed there until the store was closing. We enjoyed using all of the nice bins we bought to help fill up the SafeRacks, and we bought lots of hooks, broom holders, turntables, closet accessories, utensil dividers, and the like. I was surprised that we didn't really need Elfa shelving, but since Dana's house already had some good infrastructure with built-ins and decent closet configurations, it just wasn't necessary. I often do use Elfa extensively in my projects. I have it in most of the closets of my own house, and I love it because it's adjustable and easy to install. We mostly needed lots of small stuff for these projects.
So much to say about this makeover! I have videos and lots of stuff to share over the coming weeks and I will sprinkle it in as time goes on. Later this week… Part 2, The Office! What do you think? Share your thoughts in the comments!

Follow me on Twitter for my Daily #ClutterTweetTip: www.twitter.com/clutterdiet