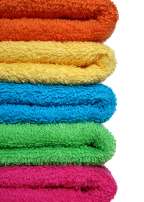 We talk all the time with our Clutter Diet members about how systems and routines are crucial to staying organized. We counsel people all the time in our hands-on organizing work with clients about how to create good laundry systems and other household management techniques.
One of the trends we are seeing as our clients are building new homes is that they are putting in second laundry rooms– one upstairs and one downstairs. And if two laundry rooms is not an option, they are often choosing to have the one upstairs.
Why? Because people are tired of lugging the laundry up and down stairs, when the laundry basically starts and ends right in the bedrooms, particularly the kids' bedrooms. It makes so much sense! There is a lot of transport involved to take the dirty clothes down, process them, and then just bring them right back up to put away.
Still other people have decided to have two dryers, because the washer is consistently finished with its cycle faster than the dryer and they can get more loads done more quickly. Something to consider!
This article from the Chicago Daily Herald highlights this new trend, along with other conveniences that homeowners are now starting to expect and demand: outdoor kitchens, spa showers, and huge closets. According to the article, homeowners are now much more interested in organizing their things rather than just stashing them somewhere and having no visibility to them.
How could you make your home more convenient? If you are building or remodeling, certainly give some thought to how to save steps with your laundry and other factors. Even just adding a laundry chute can save a lot of steps. Get creative!