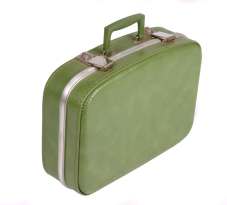 Many of you, my dear readers, may be preparing for an upcoming Spring Break trip or business travel. With the long lines at security, the taking-off-of-the-shoes, and countless other necessary (?) inconveniences, one is very motivated to get organized to reduce the hassles. No need to bring clutter along with you when you leave the house!
On the web are some extremely helpful people who have great sites helping you learn to pack light. For those who are determined not to check a bag, there are two fantastic sites out there: www.travelite.org and www.onebag.com. These sites are exhaustive references, with diagrams of how to fold and recommendations on the best bags, etc!
For those less obsessed about getting it perfect (that would be me), it's still helpful to use a checklist or two that will make sure you don't forget anything. As the guy on OneBag says, there is a very good reason that pilots are required to go through a checklist before they take off! Checklists are a sure-fire way to organize your thoughts and capture things you have learned when you have a task that you need to do repetitively. We do have some notepads on our site that will be helpful:
I hope this information is helpful to get you organized and on your way to Happy Trails!