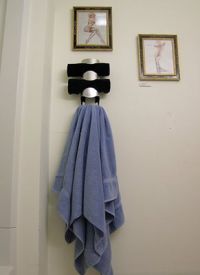 Apologies– something very strange happened to this post and it was duplicated and I had to fix it– sorry if you have already read this!–
Getting organized is easier at IKEA… the prices are very affordable and their designs are amazing and innovative. What's fun is that you can usually use their things in many different areas of the home or office for many different uses. One of our organizers, Laura, found this great blog where they are showing different uses for the products along with modifications– it's called IKEAHacker. Here is a photo from their site where someone has used a wine rack for towels.
This past week my team and I went on a guided tour of our IKEA store here in the Austin area. It's been open since November but I have seriously been afraid of going there until now because of the crowds! When they opened, I kid you not, there were people camped out in the parking lot. We have a lot of clients, both home and office, who are IKEA fanatics and they would drive to Houston (3+ hours) to shop there for years before this store finally opened.
If you have never been to an IKEA store, be prepared to spend some significant time. You actually do need a map to get around, and I am pretty sure the place has its own zip code. 🙂