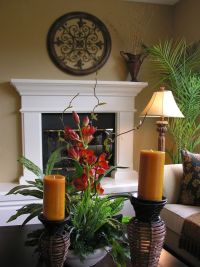 Clutter aside, you just want your home to look good… once you've gotten organized you may also want to spend some energy prettying up the place! Many of us don't need a full-on interior designer, so I am delighted to tell you about an emerging trend called "interior redesign," also referred to as "one-day decorating."
Interior Redesigners take what you already have, rearrange it and place it differently, and make it look great, without spending a whole bunch of money on new stuff. They can take some old framed print that you have, put it in another room you've never considered, and who knew it would look so fabulous? It is that incredibly valuable quality of OBJECTIVITY that helps so much– you've been stuck in a decorating rut and they can come in and see lots of possibilities that you can't. This objectivity is something we as organizers also provide abundantly when we work with our clients.
If you want to find a redesign specialist in your area, you can visit the site of the Interior Redesign Industry Specialists (IRIS) and click on "Locate a Specialist."
Now, you need to get organized and clear the clutter before you call them, so let us help you do that part! Our team at the Clutter Diet answers your questions and consults with you directly in our message boards at an extremely affordable cost– it's the next best thing to having an organizer standing next to you!