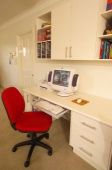 Getting organized and working effectively in a home office is challenging. There are many great benefits to working from home, but even if you are super-organized, you may still have these difficulties:
Noise and privacy problems
Need for multiple people to have access to your home
Blurring of the lines between work and personal life
Family members messing up your workspace
Not having someone to receive deliveries when you're out
To provide some solutions for these issues, you may enjoy reading this article that I wrote for lifehack.org, a site that helps you do everything better and more efficiently.
If you are considering a work-at-home arrangement, you might also like this other article featured on Lifehack about the pros & cons of working from home (I did not write this one).
What are your working from home challenges? What have you done to address these, and where are you stuck?