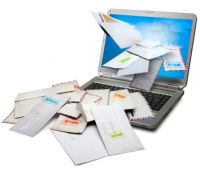 Wednesday night we had our monthly members-only Q&A call, and there was a lot of talk about e-mail. While the Clutter Diet® program itself is really not for the workplace, I have done productivity work with clients for years in companies large and small, and it's something we all deal with to varying degrees. I approach e-mail problems the same way I approach almost everything I organize– looking at Prevention, Reduction, and Maintenance…just like weight loss.
Prevention:
Unsubscribe to as much as you can, and better yet, don't subscribe in the first place. (Unless it's my newsletter–ha!) Make sure the content is really adding value to your life, is consistent with your goals and objectives, and is not just a constant sales pitch.
Be careful when you buy something online— make sure the checkbox for receiving other communications from the vendor, and especially from "their partners," is not checked off by default. Check privacy policies to make sure you understand how your information is going to be used.
Make sure your IT person has helped you set up the best spam filtering you can get for your particular situation. Spam is a terrible time-waster!
Have conversations with significant email senders in your life about your desire to reduce your e-mail.

Individuals: You can agree for someone like an assistant to send you a report in digest form of several issues and events that have occurred in one day, vs. sending you an individual e-mail about each item. And if you are on someone's "joke list," ask politely to be removed as you are trying to prevent inbox overload. Most people will understand.
Teams/Departments: Have deliberate, facilitated conversations about what could be done about reducing e-mail in your company culture. Some companies are having "No E-mail Fridays" to encourage people to pick up the phone and interact more, and to have more focused, productive time. Talk to your team about who really needs to copy whom and find out if there are obvious things that can be changed– the only way to know is to talk about it directly.
Reduction:
Cut that giant inbox down to size. Someone on our Q&A call had over 3000 messages in her inbox, and that is VERY common. To whittle it down to a manageable size, pick a reasonable date in the recent past by which you are 99% certain anything before that date has been handled or followed up with further emails. For example, if it's February, you might pick January 1st, or December 1st… and any messages prior to that date get archived into a folder. You still have them, they are searchable, and everything is going to be okay! But they will be out of your inbox and you can get closer to that fresh start.
Use rules and filters to start weeding out and organizing what is left. In Outlook, it's under Tools>> Rules & Alerts (older versions say "Rules Wizard"). In other situations it may be called "filters." You can set up rules to take things like routine newsletters and set them up to automatically go to a folder called "Read/Review," taking them out of your daily processing. You'll be very surprised at all of the things rules and filters can do! 
Use our Action-Reference-Trash (A-R-T) technique to help you quickly plow through the remainder of the inbox. 

ACTION means you need to do something with that message– respond, research, delegate, etc. You can leave these in your inbox, or you can use Outlook tasks and calendar functions to drag the messages and create tasks and appointments from them.
REFERENCE means no action is required, but you need to keep it on file for later– so get it out of the inbox. Create a system of folders that works for you to go back and find things quickly. It could be one folder called "Reference," or you could have folders for various parts of your job and life. Don't make so many folders that the decision-making slows you down! Keep it simple. Remember, it's all searchable and sortable.
TRASH means hitting the DELETE key… but before hitting delete, always ask yourself if you can unsubscribe to that particular type of message first and do that too.
Maintenance:
Process your email regularly with the A-R-T decision-making technique, and pick a target number of emails in your inbox that works for you to feel "in control." For some people, that is "INBOX ZERO." For others, 10, 20, or 50 messages in the inbox feels sane and manageable. Try to hit that target number at least once a week, if not daily.
As you maintain, always keep Prevention in mind. Unsubscribe as you can and keep those principles in practice.
There are two main problems with maintaining e-mail– 1) the ongoing volume and 2) the reactive, addictive, unproductive mode many people can fall into with it. You want to manage email, not have it manage you. As you maintain your inbox,  use these practices to help you stay proactive:

Turn off the notifications that pop up and make sounds when a new email is delivered to your inbox. These are interruptions and distractions that you have complete control over.
Check and process your emails at certain designated points of the day, not continuously. If you are trying to get productive work done, email will be a constant interruption if you let it.
If you must check at an "off-time," look at your Blackberry/iPhone instead of getting into Outlook or Gmail. You can see and respond if anything urgent has arrived, and otherwise you will be less tempted to start processing and digging in because you will have to peck responses out on a tiny keyboard.
There is SO much more to say about email! What are your favorite tips and pet peeves? Share in the comments!

Follow me on Twitter for my Daily #ClutterTweetTip: www.twitter.com/clutterdiet