A couple of things to remind you of… first, before I put it off any longer, I wanted to let you know that tomorrow (Sept. 1) is "Fight Procrastination Day!" What dreaded task can you commit to doing? USA readers have a long weekend coming up for Labor Day– here's my big question to you:
What could you accomplish with that extra time that would give you more energy and make you feel terrific for the rest of the month?
One suggestion for a great project is to bring your excess clothing and household items to Goodwill. Back-to-School is a fantastic time to go through your family's folded and hanging clothing, especially since you probably are buying the kids new school clothes. Your children will have outgrown quite a bit since you last went through this, and the items they don't need can provide someone else with meaningful work, job training, resume writing help, placement services, and other employment assistance.
Did you know that is Goodwill's entire mission– to help put people to work? I am surprised how many people don't know this! As their national spokesperson I am hearing many people's comments and feedback, and I am shocked at how many people think Goodwill's services are limited to providing work in their own retail stores. Goodwill does everything from career counseling to assistance with transportation; from interview skills training to actual job placement within the community. Some Goodwill agencies even obtain large contracts for assembly work, landscaping, document imaging, and custodial services and actually make the jobs happen for those they serve.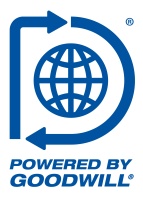 If there's anything we need now more than ever, it's JOBS, and I am proud to help people understand that Goodwill contributes 84% of their collective revenues directly to support this mission! You can use our donation calculator at http://donate.goodwill.org to find out exactly what kind of impact your donation has on your community. For example, one sweater, 3 pairs of jeans, and a coat provides someone with an hour of on-the-job training services.
I also wanted to remind you that Family Circle magazine has a Back-to-School Clothing Drive going on right now through September 30th, 2010. Last year, they helped Goodwill collect 11 million pounds of clothing. (That's a lot of Clutter-Pounds® lost from people's homes, as our members know!) You can participate by bringing in your donations, or by setting up your own clothing drive in your neighborhood, school, or office. You can download a how-to guide here, and you can find a donation center near you here.
So, how about it, will you do something you've been dreading? Or at least clear some space in your house to help others in your community find work?  How will you celebrate "Fight Procrastination Day?" Share in the comments!

Follow me on Twitter for my Daily #ClutterTweetTip: www.twitter.com/clutterdiet