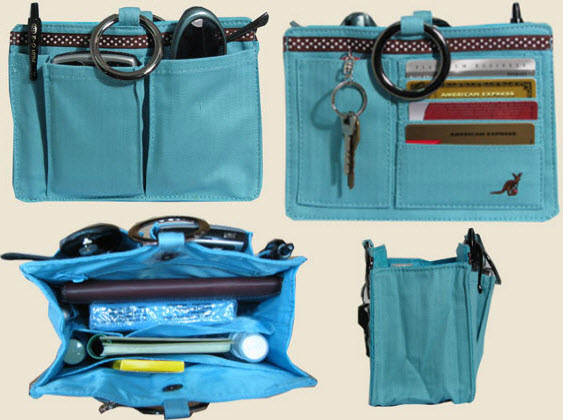 Yes, the cure for big bags… but not those under one's eyes, unfortunately! Just the cure for organizing the bulky baggage we are all hauling around, like giant purses, backpacks, and suitcases. This post was inspired by a friend (L.L.– you know who you are!) who digs around in her very large purse.
When you have a large gaping space of any kind, usually the best way to organize it is to break it up into smaller spaces or divisions. When you're working with a closet space, you add shelves and clothing rods. When you're working with a large shelf, you break it down further with baskets and turntables. And when you have a big bag, you can MODULARIZE it with smaller bags inside.
Recently we started carrying this purse organizer in our online store (click the photo above to enlarge view), and every time people see this thing in person they exclaim, "WHERE DID YOU GET THAT?" Male or female, no kidding. Women want one, and men say their wife needs one. All I really need to do to be set-for-life is to put up a table in a busy ladies' restroom and let the mob begin. This organizer allows you to put all of the absolute essentials all in one place, and then when you need something quickly you can grab it (I can now find things by "feel" inside my purse because I know which little pocket everything goes into). And, when you change from one purse to another, you just put the organizer in the other purse and go. You can read more about these here– we have them in two colors.
I also carry another purse "module"– a clear plastic, zippered pouch that has more great stuff– things that are not quite essentials but come in really handy. I wrote about this previously in my post, "What Do Boy Scouts Carry in Their Purses?" where you can see an annotated image of what is exactly in this pouch. IF you are interested.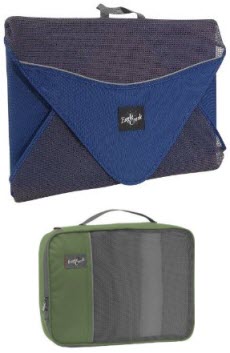 On to suitcases… now more than ever, you need to have your suitcase and/or carry-on organized so you will travel lighter (see this previous post about airline baggage fees), and if you happen to get searched, you want your personal belongings to neatly get taken out of the bag in MODULES instead of exploding out in front of everyone in a blast of shirt sleeves and undies.
For years, I have modularized my luggage with Eagle Creek Pack-It Folders and Cubes. I got mine as a gift from a friend whose family traveled all around the world for a year. They were definitely some stellar packing experts! I have since given these as gifts many times and recommended them wholeheartedly. The links given here are for Amazon, and the Container Store also has a great selection in their stores. I use the large 20″ folders. What you do is fold up your clothing and stack it in the folder, then Velcro it shut. The whole stack stays together, stays in place, and compacts down well. I pack suits and everything this way and it does minimize wrinkles. I use one cube for holding my small rolled up pajamas and workout clothing and socks, as well as undies and other small clothing. When I unpack, I just take out the folder and the cube and put them in my hotel drawers and I am pretty much done.
For my carry-on personal bag, I use my purse organizer as shown above, and my other zippered pouch. Then I use the classic zip-closure plastic bags to modularize other things in the bag like snacks… and of course, my liquids & gels that need to go through security. I can quickly pull out anything I need because it's in a smart, smaller bag within.
I save a few sturdy, zippered makeup bags and other clear pouches to use for more permanent needs when I find other items I want to make into a module. Office supplies, makeup, kids' needs, medications, cords & cables, small toys, and the like are good categories for having their own modules in your bag.
How do YOU modularize to organize? Share in the comments!

Follow me on Twitter for my Daily #ClutterTweetTip: www.twitter.com/clutterdiet