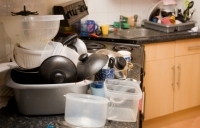 Many people are off for the holidays starting this week, and sometimes they are home looking around wishing they felt a little more relaxed in that environment. Here's a quick way to make some progress while everyone's around to help.
Periodically, we have around here what I refer to as a "Day of Reckoning." Things have been accumulating in various trouble spots around the house, in the common, shared areas, and I just throw it all together and tell everyone they have to sort their stuff out and put it away.
I get some extra laundry baskets and designate one for the boys and one for my husband, and anything I find of theirs, I put in their corresponding baskets. Then they have to clean it out and everything looks great again! Fast!
As you are doing the gathering and sorting for your Day of Reckoning, ask yourself these questions:
Why is this particular type of item showing up repeatedly?
Why is there a logjam or bottleneck in this certain area?
What could I do to prevent this from happening again?
When you analyze this you may find that there are improvements you can make in your current systems– a basket here, a hook there– that would prevent repeating these same pile-ups. 
Make sure your family understands that they need to clean out their boxes or baskets BEFORE doing something they consider to be fun–there is a deadline! It probably won't take them that long– in our house much of what ends up in those boxes or baskets is either trash or it has a home already where it can be put away. It usually takes about 15 minutes for them to deal with it.
Do be careful that these baskets or boxes don't just get stashed away instead!
This works well and quickly only if you have regular maintenance tasks that are getting done that keep things from getting too out of control. If you have no systems in place already, you'll need to do some deeper organizing projects before you can get to the point where a Day of Reckoning will be feasible. If you need some help with creating systems and doing that deeper level of focus, you can get unlimited support from our team of organizing experts in our online program! For just $4.95 for the first month (UPDATE July 2011: We now offer the FREE 7-Day Quickstart which includes seven days of focused guidance from me plus an additional 7 days of full access and support!), you can find out if we can help you and see what we're all about. Click here to read more about our program.
Will you be having a Day of Reckoning this week? What are your favorite quick decluttering methods? Share in the comments!
(NOTE:  I won't be posting on Friday as usual this week due to it being Christmas Eve. Enjoy yourselves! Merry Christmas/Happy Holidays!)
Cheers,

Follow me on Twitter for my Daily #ClutterTweetTip: www.twitter.com/clutterdiet, and see our weekly #ClutterVideoTip on YouTube at http://www.youtube.com/clutterdiet
If you are not reading this on clutterdiet.com/blog, in your own RSS reader, or via an Amazon Kindle subscription, this content most likely is being used without the author's permission and is violating copyright law. Please do not support these scraper sites!