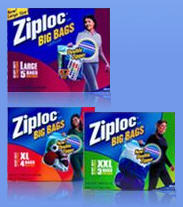 Many people may not know that clutter can be contained very inexpensively in the new BIG Ziploc bags that came out in the last few years. You may not be able to find them at your grocery store, but a home improvement center or discount store will probably carry them. You can organize linens and other larger items and keep them free of dust and pests, without having to purchase a more expensive, hard plastic container that may take up a lot of unnecessary space.
Here is a list of ideas they provide on their website of things you can store in these big bags:
Linens and pillows
Jackets
Blankets
Seasonal clothing
Holiday decorations
Sports equipment
Sleeping bags
Books and photo albums
School supplies
Office supplies
Craft supplies
Beach/pool items
Gift wrapping
Halloween costumes
Toys/stuffed animals
Baby clothes
Camping equipment
I love the idea of also using these for packing when you travel, at least the smaller sizes. Here are the sizes they have– and I have also seen 2 gallon sizes in the grocery store that are a good size for many uses as well:
Large 1.25 ft. x 1.25 ft., 5 per box
Xtra Large 2 ft. x 1.7 ft., 4 per box
XXtra Large 2 ft. x 2.7 ft., 3 per box
Go crazy! You could zip up almost anything in these bags! They cost roughly a couple of dollars apiece, so they are very affordable.