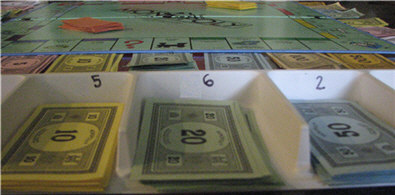 We see a lot of homes with stacks of board game clutter… broken game boxes, pieces scattered around or missing, and other problems like mixed up money. I was just playing Monopoly this weekend with my kids and was inspired to tell you about some of the ways we organize board games…
Sometimes all you need to make things easier is a simple Sharpie® marker. This photo shows one of the little things that my family does. In the Monopoly rules it tells how many of each denomination of money is required to set up for play (2-50s, 6-20s, 5-10s, etc.). So we just wrote that number in Sharpie marker on the banking compartments as shown here, so setting up is faster. When we have a game that uses a big box of cards, like trivia questions, we always mark one side of the box with a Sharpie marker to say "DRAW HERE." That way you don't get confused between games about which end of the box you're playing from.
When we are organizing for clients, we always have a roll of clear packing tape with us, and we use this often to repair crushed board game boxes. Resealable zipper bags are great also for keeping sets of pieces together– the "snack size" are just perfect for tokens and little Life-game "children and spouse" pieces, etc. And the humble rubber band is always useful for holding together stacks of cards. If your box is crushed beyond use, there are these great products called Game Savers that are plastic replacements for your board game boxes, better-designed to hold the pieces properly and be more durable.
What are your favorite board game fixes? And favorite games? Ours are Apples-to-Apples, Balderdash
, and Hoopla
. Our Clutter Diet members can join in the discussion on our message boards. Enjoy!