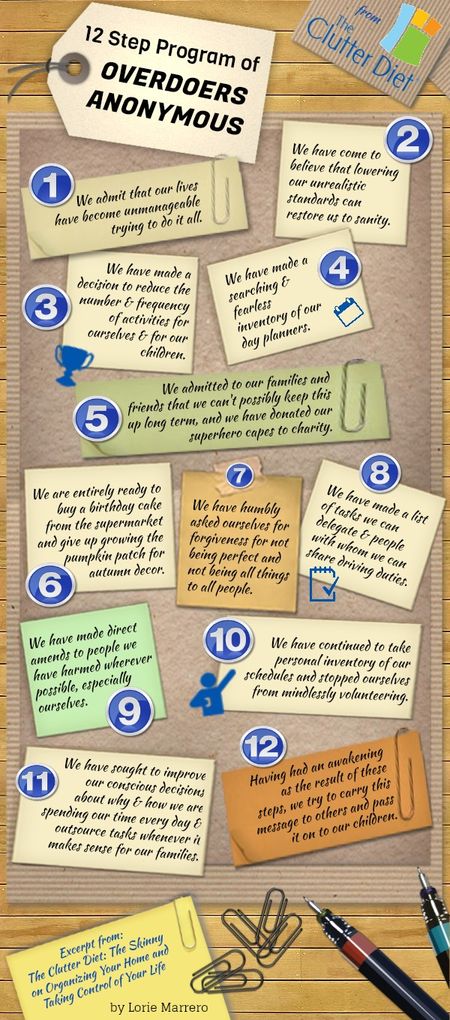 I hope you enjoy this infographic that we created, based on an excerpt from my book, The Clutter Diet: The Skinny on Organizing Your Home and Taking Control of Your Life. (click the image for a larger view– and please pin it if you like it!)
Pinterest, Martha Stewart, HGTV, and many other influences out there are full of very intriguing ideas. But instead of seeing this as the ultimate manner in which things COULD be done, some people internalize these ideas as how they SHOULD be done. Enjoy your collected ideas as aspirations and do some of them, but don't feel like a failure if you don't do everything in the most perfectly elegant way!
This twelve-step addiction "program" is just a joke, but the message is not. Are you addicted to excessive activity? When you're quietly alone with your thoughts, do you enjoy your own company? Why are you so busy? It's something to think and journal about…
Be nice to yourself.  🙂
If you need some help getting organized and paring some of these expectations down, we are here for you 7 days a week online– get unlimited access to our organizing experts to answer YOUR personal questions, for about the price of a pizza! Find out more here.

Follow me on Twitter for my Daily #ClutterTweetTip, "Like" us on Facebook, PIN with me on Pinterest, and see our weekly #ClutterVideoTip on YouTube at http://www.youtube.com/clutterdiet