The song "The Twelve Days of Christmas" always fascinated me… the idea that someone could give a person a series of gifts each day and keep building on them. I was wondering how many gifts that actually ends up being… In our work as Professional Organizers, we get a lot busier in January, obviously from New Years' Resolutions, but also because people received a lot of Christmas presents to organize and put away!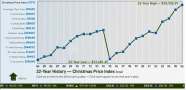 So, the answer is 364 gifts that the person receives from her true love. Giving or receiving this many gifts definitely goes against our professional advice! And the cost…! Well, this year, the cost hit a 22-year high for the Twelve Days of Christmas gift items, at $18,920, according to the PNC Christmas Price Index. Yes, there is a person on their staff who researches the labor cost of drummers, dancers, and maids-a-milking. This image is a screenshot from their site of the chart over the 22 years they have been tracking this price index. Visit their site and take special note of the "ticker" that is crawling below the chart!
If anyone asks, I will just take the five golden rings.