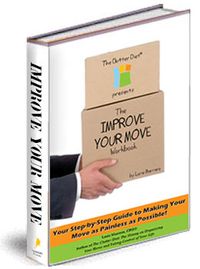 May is the time when people GET MOVING— selling their homes and relocating so the summertime transition gets the kids all settled before the next school year.
So in celebration of National Moving Month, I am offering my Improve Your Move Workbook for only $10, regularly sold for $17. That is over 40% off! It's a downloadable eBook that you can get NOW and print out immediately, and it's full of checklists and timelines and tips to help you plan and manage your move from a Professional Organizer's point of view. I moved my own family 11 times in 11 years, and have also helped many clients through the moving process as a professional, so I have packed that learning into these 97 pages.
This offer will be good through May 31, 2010, and you can use the coupon code GETMOVING to save over 40%. Click here to order or read more about the book on our site, and you can also click here to get an expanded table of contents to see what all it really covers (PDF). (This offer cannot be combined with other offers)
Here are five great tips to help you IMPROVE YOUR MOVE:
Check and possibly upgrade your cellular phone plan, at least for a month or two-– you might need to use many more minutes than usual during this time of transition, and you definitely don't want to pay a big surprise overage bill!
Gather all of your information about the move into a 3-ring "moving binder," including a calendar page for each appropriate month; plastic business card sleeve pages to keep info handy for your vendors, real estate agents, and other contacts; a zippered pouch to hold pens, sticky notes, swatches of fabric, and other small useful items; and printed checklists and other lists to help you keep track of all of the details.
Check Angie's List to get real customer reviews on movers and other service providers before making an expensive and frustrating mistake.
Use your phone camera or other digital camera when house-hunting to help you remember details about the homes you visit, and take notes. You will be surprised how it all blurs together after an afternoon of seeing many homes in a row. And bring a measuring tape to see if your own furniture will fit in tight spaces.
Despite what you might have thought, don't oil or wax your wooden furniture just before the move. Instead of protecting it, the oils may actually soften the wood and make it more vulnerable to damage.
There are literally hundreds more nuggets of information like this in the Improve Your Move Workbook! Take advantage of our May National Moving Month special with the coupon code GETMOVING and get it for only $10.
Here is a basic Table of Contents for this 97-page eBook– the expanded Table of Contents is available in PDF by clicking here.
Chapter 1: How To Use This Workbook
Chapter 2: Primary Decisions
Chapter 3: Preparing Your "Stuff" to Move
Chapter 4: Preparing Your Home for Sale
Chapter 5: Finding a Home
Chapter 6: Timeline Checklist
Chapter 7: Travel Planning Checklists
Chapter 8: Packing
Chapter 9: Arrival & Unloading
Chapter 10: Special Circumstances
Chapter 11: Your Own Worksheets
Enjoy, and may this move be your last move!  🙂

Follow me on Twitter for my Daily #ClutterTweetTip: www.twitter.com/clutterdiet