I joined Clutter Diet in April of 2009, when it became clear that my hoarder BF had to be hospitalized for early onset dementia and other health issues. I had given up on keeping the house livable as I had a very demanding paying job that often required lots of overtime, and then would come home and have to deal with his mental issues. It got to the point that I just would try to keep a path clear from the entry door to the kitchen and another one to the bedroom, and tried to ignore the mess. Forget even trying to have company even for holidays, as I had a severe case of Can't Have Anyone Over Syndrome! I ran across this site in an article in one of the Women's magazines, and I was immediately drawn to the approach of having weekly plans and using baby steps to clean up the hoard that was left for me to deal with after he left for the hospital and subsequent nursing home. Here are some pictures of the Before. This is just the Great Room – the non-public areas and the garage were even worse!



All of the soft furniture had to be replaced after I dug it out from under the piles of papers and other clutter due to the damages caused by his hoard of cats, and as part of the clean-up process and new start on my life, I also had the kitchen re-done. Because of my demanding job, I had to do all of this on week-ends and an occasional block of vacation days. Here are the After pictures of the same areas: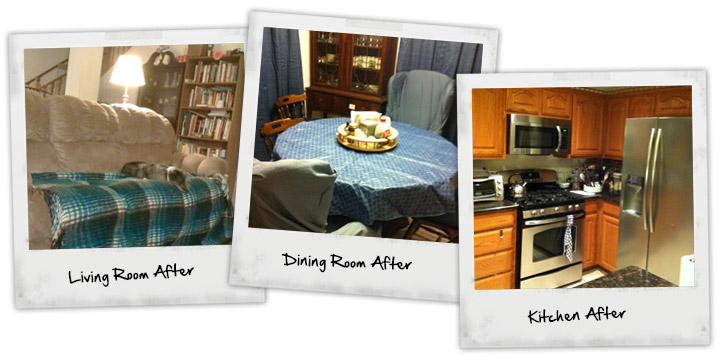 Thank you ClutterDiet.com Experts and members, both past and current, I could not have done it without you!
Sincerely,
Blondeincharge
Aka BIC