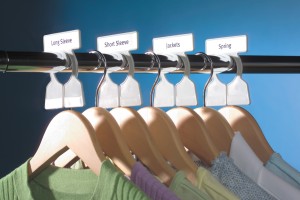 As seen on the Rachael Ray Show and in Better Homes & Gardens and Parents Magazine
Organize your clothing like a pro! We have been using this product for years in every closet we organize. Our clients love how this product helps their closets stay organized, gaining full visibility to their wardrobes.
Available at The Container Store and Amazon.com.
Looking for the print-your-own labels? Right-click this link to download the Microsoft Word template.
We have provided labels in both English and Spanish, and we have included our best tips and our handy closet maintenance calendar to show you how to keep your closet organized throughout the year.
Using Simple Division® helps you:
Find things quickly
Make better wardrobe purchases & choices
Enable anyone to put clothes away
Organize closets and laundry rooms
Manage hand-me-downs
Manage baby and toddler sizes
Each unit comes with 60 bilingual wardrobe labels and 12 dividers. Each plastic divider is 3.75″H, 3″W at the top, and 3.25″W at the bottom. The center hole is 1.5″ in diameter and fits all standard closet rods. Our dividers are specially balanced to not spin around on the clothing rod, and our unique rectangular design allows for adequate space to label with a full line of text.