Moving is truly an opportunity–it's one of the few times you have to literally touch everything you own, so it's the perfect time to organize yourself better with a fresh new start.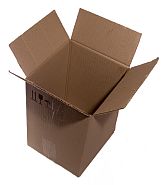 That's why I'm very excited to share with you our new eBook on moving! It's called The Improve Your Move Workbook. I have been working on this for a while and needed to put it on the back burner while my paperback book (The Clutter Diet) was a higher priority, and I am THRILLED to tell you that it's now ready for the busy summer moving time.
The eBook is an instant download, in PDF form, and it is a WORKBOOK– meant to be printed out and written in. It's a "meaty" 97-page practical set of checklists and tips that get you going right away.
My team and I have moved many clients in my organizing practice for nine years, and I have moved my own family eleven times and built four homes. From the day I started my business, I have always wanted to share what I have learned about this stressful process to help other people.
SPECIAL FOR MY BLOG READERS AND TWITTER FRIENDS: I am giving you a special deal until August 15, 2009 for $5.00 off this eBook when you use the coupon code "summerdeal" in our shopping cart! Here's the link to read more about the book: www.clutterdiet.com/movingbook
Below is the basic Table of Contents, and you can get a sneak preview of the expanded Table of Contents and Introduction by clicking here.
Chapter 1: How To Use This Workbook
Chapter 2: Primary Decisions
Chapter 3: Preparing Your "Stuff" to Move
Chapter 4: Preparing Your Home for Sale
Chapter 5: Finding a Home
Chapter 6: Timeline Checklist
Chapter 7: Travel Planning Checklists
Chapter 8: Packing
Chapter 9: Arrival & Unloading
Chapter 10: Special Circumstances
Chapter 11: Your Own Worksheets
If you are with a major moving/relocation/storage or real estate company, I would love to talk with you about reviewing the book and about ways we might possibly provide copies for your clients. You can contact us here if you'd like to have a conversation.
Thanks, everyone, for sharing my joy in completing this project! I hope you like the book! As always, please share your thoughts in the comments.
KINDLE NOTE: Many have asked me if I am planning on selling this eBook on the Kindle, and I wish I could! The problem is that it truly requires being printed out on paper–it's a workbook. If it were on the Kindle I think it would be frustrating not to be able to print it out. Maybe someday we'll have that capability…

Follow me on Twitter for my Daily #ClutterTweetTip: www.twitter.com/clutterdiet