Looking for organizing tips? A handout or printable?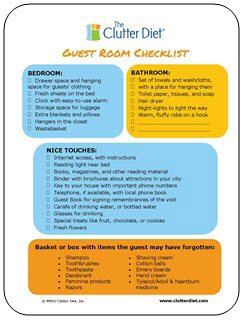 Here's what to do… register for free and find your organizing tips on our "PRINTABLES" page inside the member area. There you will find the Simple Division® Garment Organizers label template, the Itemized Donations "Donate for Dollars" Form, the Rotation Menu Planner, and other handouts you are looking for to organize your home… and MUCH MORE.
Most popular are our famous "Wallet Reminder Sleeves," which remind you of the five questions you should ask before purchasing anything! Organized living starts with preventing clutter from entering your home in the first place, rather than getting rid of clutter later.
No strings, just register and come on in. As a "Clutter Diet® Lite" free member, you also get our 7-Day Quickstart program, some of our tutorials, all of our articles, organizing tips, and lots of other goodies to declutter your life.
Register for FREE for Clutter Diet® Lite
Organization tips are just a start, however. Organizing your life means taking action to declutter and streamline. If you feel overwhelmed about which actions to take, and you are on a budget, our team of professional organizers is available seven days a week to help you! We provide affordable online organizing consulting to our paid Plus+ and Project members. We have helped thousands of people in 18 countries since 2006!
We also offer phone and Skype consulting to help you learn how to get rid of clutter. We can advise you about your kitchen, bathroom, bedroom, home office, or other rooms. We can even help you learn how to organize your garage. So many people need to watch their wallets! Our phone and Skype consulting for organizing your life provides a budget alternative to hiring professional organizers in person. You can use your consulting time in smaller increments, do your "homework," and check back in. Stretch your consulting over a whole year if you like, making the value last much longer.  Read more about our phone and Skype consulting here.